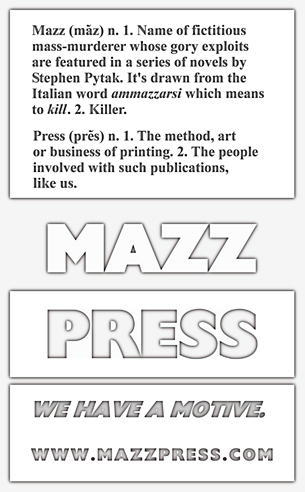 Determined to bring his visions to life on the printed page his way, Stephen 
Pytak decided to start his own publishing division. Named after one of his 
most notorious characters, Mazz Press is dedicated to producing thrillers 
about gothic realms with terrifying turns.
     For more about "Mazz," click HERE.
     For as long as he can remember, Stephen has had a fascination with the dark 
side of the human soul. He explores that by writing fiction, drawing, hiring 
illustrators, and -- like the creators of the original Warren "Vampirella"  
Magazine in the 1970s -- hiring a model now and then to give his characters a bit 
more verisimilitude. 
     To date, he's written two books and launched four Web sites (not including 
MySpace and Facebook pages).
     His personality is a strange mix of comic and goofy, passionate and 
determined, right-brained, artistic and edgy. He's also somewhat enigmatic, 
having dedicated so much of his life to writing about low-rent mercenaries, 
vicious psychopaths and lost souls on the fringes. Ask him why he does it and 
he'll tell you he simply enjoys it.
     He grew up in a tiny, nearly forgotten village in Eastern Pennsylvania. Even 
it's name suggests it's from some other dimension: Lost Creek. His best 
childhood memories involve horror movies and novels, monster magazines 
and comic books. He dreamed about becoming a make-up artist, until he 
directed his first Super-8 movie in 1987. Then he wanted to become a film 
director. He enrolled as a film major at Point Park College, Pittsburgh, Pa. 
Unsure if he'd be able to put bread on the table making independent  fear flicks, 
he switched over to the journalism program. There, he strengthened his writing 
and photography skills. He graduated with a degree in print  in 1992.  Since then, 
Stephen has worked as a reporter for newspapers in  Schuylkill County, Pa. 
     During the 1990s, Stephen wrote four screenplays. Unable to find an agent, 
he gave up on that form of expression and started writing novels. His first,  a 
dark action fantasy called "The .40 Caliber Mouse," is about mercenaries who 
use the Internet to advertise their services. A death-wish story like no other, it 
pulls readers into a world where vengeance is user-friendly. The book, released 
by an independent publisher in 2004,  is available at www.40calibermouse.com.
        In October 2008, Stephen plans to relaunch "The .40 Caliber Mouse" series 
with  "The .40 Caliber Mousehunt." It's a savage tale in which our heroes face the 
consequences of their actions. 
     Meanwhile, he's thinking about future projects. While writing "The Wild Damned," 
he's keeping a journal, jotting down ideas for another book in "The .40 Caliber 
Mouse" series. So far he's got a working title and a basic storyline. And one of his 
long-term goals is to find the financing to create a graphic novel. 
   "It's easy to get discouraged, when you think of doing something like that. It's not 
the page design or the amount of work involved. That's something I'd really like to 
do. Problem is, projects like this aren't cheap," he said. 
    Norm Breyfogle, the legendary comic book artist popular for his work on DC's 
"Batman" in the '80s and '90s, drew  the dynamic artwork for Stephen's second 
novel. When they talked about the cost of putting together a graphic novel, Norm 
encouraged Stephen to keep his chin up.
    In an April 2008 e-mail, Norm said: "Hold fast to dreams, for if dreams die, life is a 
broken-winged bird which cannot fly."